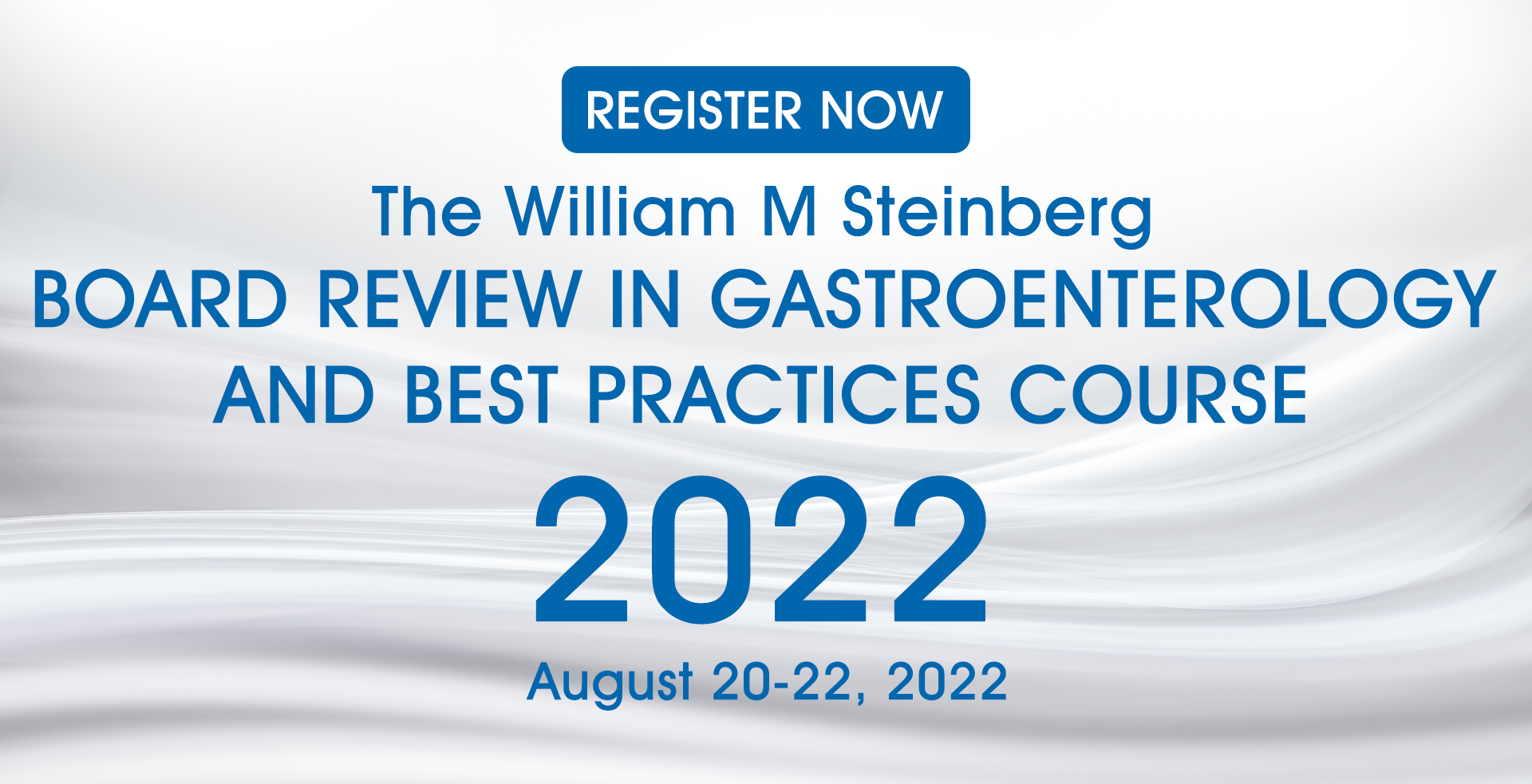 The 2022 William M. Steinberg Board Review in Gastroenterology and Best Practices Course is now open for registration. The course will take place August 20-22, 2022* at the Hyatt Regency Tysons Corner Center in Tysons Corner, Virginia. You can make your reservations using this link: https://www.hyatt.com/en-US/group-booking/IADRT/G-WAS1
For the 2022 Steinberg Course, the group rate at the Hyatt is $169. Our discount code is G-WAS1
REGISTRATION FEES
Physicians: $1760
Nurse Practitioners / Physician Assistants: $1610
Fellows: $1185

The registration fee (for the in-person course or live webcast) includes immediate access to:
Online Practice Exams (a $525 value for > 900 questions)- available immediately upon purchase
21 Archived Lectures (a $500 value)- available immediately upon purchase
Online Syllabus and Slides in color (a $475 value)- available 1-2 weeks before the course
Online Video (a $1,600 value)- available about 1 week after the course with access for one year till Sept 2023
New features on our website ( 13 min video of the Rectal Exam; audio summaries of abstracts from current national GI meetings)
You have the option of purchasing access to the 2021 course materials at a substantial discount with your registration. Please note that the discounted 2021 products can only be purchased as part of your registration for the 2022 course. Registrations submitted for only the 2021 products will be canceled and refunded immediately, minus a service charge.
* We are moving forward with planning a live 2022 conference. If there are any major changes with the Covid-19 status, we will revert to a pre-recorded Zoom course as we did in 2020 and 2021.